As an empath,
you have a set path.
and for many, that requires selling yourself
If you've been following my journey, you know that a little oVER A YEAR AGO I WAS STRUGGLING.

Mentally, emotionally, physically, and especially financially.

My intuition pulled me headfirst into the diary at the end of 2016 without a game plan or strategy, and 2017 had me paying for that decision with tough lessons around what it takes to live your calling. I wanted to write and help others and my spirit was screaming for me to leave my social work job that was leaving me drained. I thought it would be easy, but following a feeling to 'start my own business' without knowledge of sales was deeply naive. Within months I was closing shop and walking away to figure things out. I had made my good work my life's work but didn't feel good enough to get paid enough for the good work I was doing - and I had bills to pay; bills I couldn't pay because my dreams weren't working.
It hurt but I didn't give up.
Because when I re-emerged in early 2018 I returned determined to make the diary into a successful business and myself wealthy, because I came here to shine, not to sleep on my parent's couch suffering, and I'm here to make big change and big change requires money. I also refused to settle for anything less than my calling. I was determined to lead a new conversation. One where the good wins and we (as empaths) get to live authentically.

Since then, I have launched two popular courses, partnered with a soulmate to create an essential oil line and crafted and booked out a coaching practice tailor-made to my unique skillset and how much I can give as someone who is highly empathic. And I don't worry about money anymore, because I figured out how it works. It's a formula. A formula I've catered to myself as a heart-led entepreneur.

It wasn't easy; I had to face a lot of things.

Especially my beliefs about money, myself and selling my gifts and abilities. But it turns out I have a knack for creating profitable soul-led offerings and a passion for empathifying sales funnels and strategy - and am now being awakened to the next part of my journey: teaching other empaths the skills I've been learning!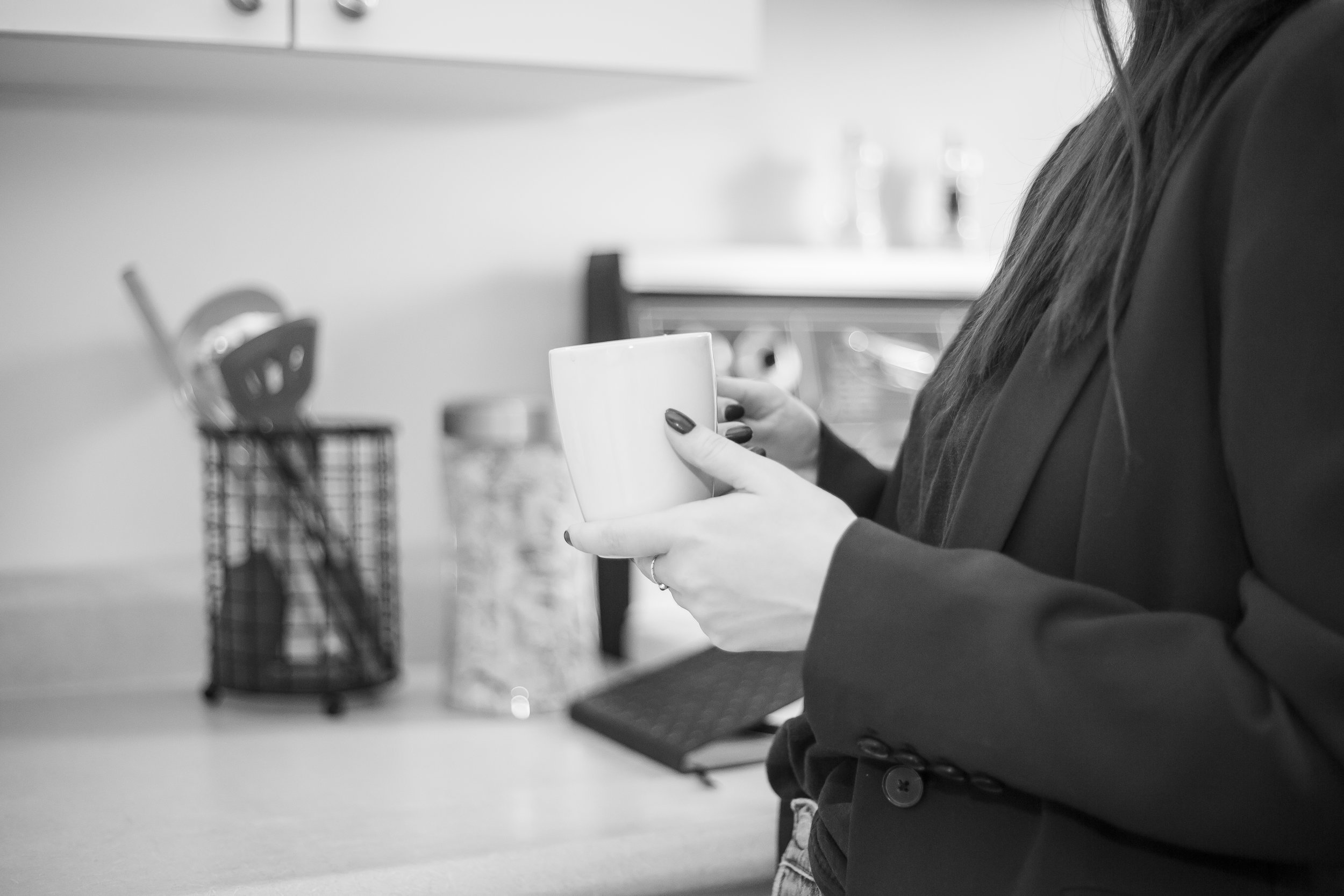 Which is why this March I'm teachING you the art of selling yourself - so you too can create the life you want.
Because you really can do whatever you want (I'm proof of it), but if you're going to start a business to do something different, you need to learn to sell your skillset.
The course is called Empaths in Business and it's a 6-week program designed to help empaths like me understand online business. Together we'll pinpoint your gifts, abilities and interests and turn them into a profitable offer that allows you to be yourself and get paid to show up and support others. Then we'll deep dive into the profit-generating sales funnel (content-lead-offer) I've used to help dozens of healers and creatives (including myself and my businesses!) and build one catered to you and your purpose.
Over the next six weeks we'll:
Get clarity on your niche & core offering and work through all the questions and concerns and power leaks that are keeping you from trusting in yourself and doing what you want. These weeks are all about getting you back in touch with yourself and building YOUR offer, not the offer you think you should be selling. We cover astrology, numerology and many other forms of self-discovery as well as connect directly with your higher self to ask him/her questions you'll need answers to as you move forward. All to ensure you're doing what you came here to do - and not getting sidetracked by another's thoughts on you and your potential.
Handpick and develop the lead magnet you'll use to showcase your abilities to ideal clients or customers without over-giving your time and energy in an effort to convince them to buy from you. Because you aren't here to martyr yourself and being of service isn't meant to be exhausting. If you've ever opt-ed into someone's free course or worksheet, this was their lead magnet and if you liked it, you were being sold to without realizing the strategy behind their free offering. This will be the content you'll make centre to your growth strategy and share with others when sharing about your work and your role. And knowing this is critical to this work being easy on you and you being trusted for what you're here to do.
Create your pillar content that we'll later automate in your growth strategy. This content will be based on your offering and delivered through your preferred way of showing up - blog posts, videos, podcasting, photography, music, you name it - and strategized with keywords and other SEO hacks to ensure your ideal client or customer will be able to find you through the Internet.
Put it all together with a long-term growth strategy based on automation tricks to continuously bring ideal customers and clients into your business without you having to do much of anything. This week will teach you the art of 'passive income' (if that's your interest) and why getting people interested in your offer does not have to be difficult. By the end of the week your business will have the structure it needs to succeed and you'll know exactly what you need to do each and every day. Basically, your to-do list will be streamlined.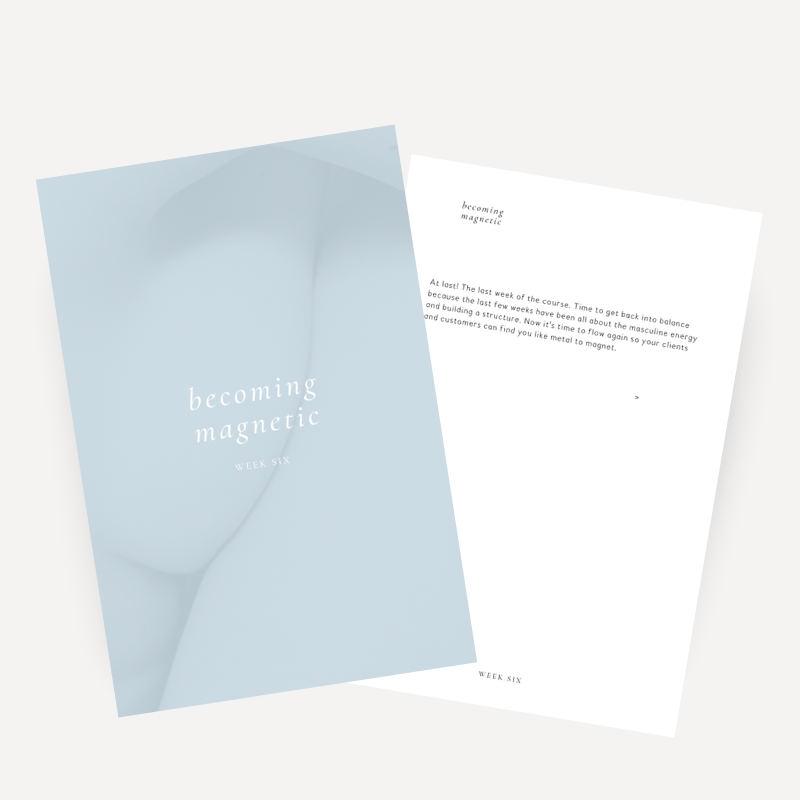 Finally, we'll finish the course by celebrating all you've accomplished by calling in your first (or next 1, 2, or 10 much more aligned) customer/s or client/s with nothing but the magnetic feminine energy. Meaning you won't have to do anything but be who you really are, because we need you showing up, not burnt out, and knowing how to harness the feminine energy is what makes that possible. Your strategy will be set (weeks 1-5) and this week is about learning to surrender and allow the non-physical to bring your perfect client or customer to you so that you can learn how to draw sales, not chase them as that is not fitting for empaths. We are here to draw like souls to us, not fight to be noticed.
let's break it down further so you know exactly what you're getting.
By the end of the six weeks you'll have clarity on what you're here to offer the world, plus an active sales funnel (website included) and launch schedule catered to your ideal customer or client so you don't have to feel scattered, unfulfilled or overwhelmed anymore. Plus the manifestation skills to draw those who need you to you, and a completely upgraded mindset around wealth, money and being the co-creator of whether or not someone buys from you.
CLARIFY NICHE & CORE OFFERING
Before we create your sales funnel we first have to know what you are selling. Weeks one and two are all about getting deep clarity on why you're here (on earth, at this time) to surface your core offering (what you're going to sell) and dispell the belief that you're here to serve everybody. Cause you're not. That's impossible. I'm going to ask you the tough questions and give you tasks that have you thinking outside the box and back to yourself, and once we know your offering, we'll begin building it (yes! physically building it, be it a coaching program, series of workshops, online jewelry line, etc.) and draft up a sales page based on principles that convert leads into customers and clients excited to pay you.
We'll also work through wounds around narrowing in on a specific demographic and pricing your offer, with emphasis on the money mindset tools that work for empaths.

DEVELOPING A LEAD MAGNET TO BUILD TRUST AND CREDIBILITY
Now that we know your niche and core offering, week three will address how you can showcase your expertise from a place of strength to ensure you don't get trapped giving support and skills away for free in an effort to make people believe in your worth and abilities. Because working for free isn't helpful - it's enabling. At the end of the week you'll have a lead magnet and nurture sequence curated to your offering to capture people's attention, nurture them with your skillset and energy and prepare them to pay for your core offering without you having to build a personal relationship with them. (Cause your time and energy is sacred and needs to be reserved for those who can pay you for what you're offering.)
We'll also work to strengthen the solar plexus and heal the wounds that are keeping you from knowing your worth and enforcing business boundaries.
YOUR PILLAR CONTENT
By the time we get to week four, we'll have enough structure for you to create your first three pieces of pillar content based on your ideal content style (your authentic means of communicating including blog posts, podcasts, videos, etc.) that we will send out to the Internet for clients and customers to read/hear/see what you're all about and be funnelled to your lead and then offering.
Can you see how it's a system we are building?
We'll also get real about how much content you're creating or believe you need to create to be successful and determine whether or not it's working (or leading to burn out) and then heal any remaining insecurities and programming held within your cells and subsconscious that have you convinced you have to work hard for your money.
AUTOMATED LONGTERM STRATEGY
Week five is about pulling everything together by confirming your funnel and setting you up to launch your first (or more aligned) offering we've been building over the previous weeks. You'll see first-hand how I recycle content and use Pinterest and my own sales funnel to make money on autopilot while I spend time with the people I love and navigate tricky energies. Cause a lot of my purpose isn't through the diary, it's in fighting things behind the scenes.
We'll also discuss why gaining social media followers can be irrelevant (unless you believe you need them) and a heart-chakra tool I was taught that changed everything for me when it comes to promoting my skillset and SELLING.
plus...
an entire week (WEEk 6) talking about the feminine energy
The empowered feminine energy is magnetic, whereas the masculine energy is forceful/electric and getting you into a receptive state (so you can get out of your own way and allow your completed funnel to bring customers/clients to you like metal to magnet) is a key part of the sales process.
There are two options for payment:
one payment of $867
(most cost effective)
three payments of $319
(= $957 total, $319 paid monthly)
UPGRADE TO 1:1 coaching
This season I am taking 3 empaths under my wing as 1:1 clients. Investment starts at $3500 - for coaching and access to the Empaths in Business self-study program. I'll be your right hand (or left hand, depending on which side of me you are needing; the masculine or the feminine; my sales strategy or my intuition) and we'll meet twice weekly for 1:1 coaching support as you work through the course content. If interested, you can fill out the application below.
This program was designed to show you that yes, you really can get paid to be who you are - by helping you unearth your true potential and ground it into an offering only you can give the world. Because I guarantee that what you're here to do looks nothing like what you've come across before.
You are an original. Who doesn't have to go it alone, anymore.
The content-lead-offer sales funnel I am sharing in this course is the exact process I've used in my own business (and am using for my oil line right now) and the process I've walked so many others through, too!
including:

+ crystal healers
+ reiki masters
+ jewelry makers
+ marketing experts
+ intuitive readers
+ social media strategists
+ course creators
+ teachers
+writing coaches
+Graphic designers
+and more


Q.

"I've started so many courses and never seem to finish them. I'm worried I'll do the same with this program."
A.

I know the feeling! And that's why this program is created to be drip-leaked, where you get small tasks every day rather than a big pile of work that will make you feel overwhelmed and unable of completing. Motivation is a lower chakra trait, so I've also intentionally sprinkled lower chakra trips and tricks throughout the course to keep you on track with things. Also, I'll be there alongside you every single day cheering you on behind the computer screen! Time investment: 30-60 minutes Monday - Friday each week, with weekends free to catch up if need-be!
Q.

"I have an in-person product-based business, will this process work for me? Or is it only for online courses and services?"
A.

This program was designed around an online sales funnel for products and services sold business to customer or business to business through the internet, however I recently started selling essential oils in person and have applied many of the techniques and mindset tools to that service. If on the fence, send an email to hello@thediaryofanempath.com so I can respond to your unique situation.
Q.

I've been in business for a little while and it's making me drained. There are so many things to learn and always something new I need to pay attention to and change. Will this be another thing to add to my never-ending to-do list? I don't want to over-complicate things.
A.

Good news! This course is all about streamlining and automating things so running your business becomes fun again. I've done all the learning for you. You just have to show up and fill in the blanks (on the workbooks) on your ideal client, your offering and the other aspects of the sales funnel we'll be creating. As a fellow empath I know the feeling of overwhelm and I know what it's like to be drained by a big vision. This process is how you free yourself from that to-do list and finally get to that freedom you are seeking. It's my skillset to 'funnel the ocean through a straw' so you can trust that by the end of the course things will feel much simplier.
Q.

I just started a blog, social media platform/channel, etc. and haven't yet started making it into a business - will this course work for me? There seem to be a lot of fancy words and I'm just beginning!
A.

If you plan to make money from what you're doing - the course was made for you! It took me two years of stumbling to learn what I'll be teaching, so if you are getting the nudge that working with me through this program is meant to be, it's your guides wanting you to streamline things and not personally stumble through so much learning.
Q.

I already have many of these things; niche and core offering, lead magnet, growth strategy, etc. will this course serve me?
A.

This course is two-part: online business strategy AND being an empath in business mentality. If you have all the theory but aren't yet making money or aren't making the money you want to be, or you ARE making money and you are unhappy, your work is less about strategy and more about healing and realigning with the life you are actually wanting. Knowledge is knowledge, implementing it authentically without wounding is key.
Q.

If I take this course and don't get results, can I get a refund?
A.

I don't normally do refunds through the diary because of the nature of intuitive work, but I believe in this process (and you!) so if you complete every day of the course and do not transform, I will offer a full refund. The only requirement on my end is proof that you applied every day of the content.
course is self study (though it is 6-weeks long, you'll have access for 8-weeks incase you fall behind and need a bit of time to catch up)

it's hosted on a password-protected platform where new lessons are uploaded daily by me in real-time behind the scenes (so it really is step-by-step and you don't get overwhelmed)

you'll have access to workbooks + print outs and a library of supportive resources (like tracking sheets for sales and expenses, pitch sheets when needing to tell someone about your offer, etc.) and a meditation for when you need the courage to keep going

plus my best tips and tools for reprogramming the subconscious mind and managing the empath energy body

but, please note: this course does not speak on the legalities of business and areas of business like taxing as those are location-specific and outside my scope of practice, however it DOES teach resourcefulness and confidence so you'll have the tools you'll need to attract helpful professionals and feel confident sharing what you do for a living with those who might not get you
this course was made for you if:
you know you have something important you're here to do

you are ready to start living it, for real

you need help figuring out your exact skillset or turning what you currently do into something that is much more authentic

you're looking for tools to help overcome the fear, overwhelm and procrastination keeping you from taking yourself seriously and showing up as a leader, healer and/or creative

you are looking for the exact step-by-step on turning a passion into an online business so you don't have to stumble through figuring it out on your own

you're looking for someone who will believe in you and what you know in your heart you want to do

you're drawn to creating an online presence, even if you don't know what you'll be sharing (YET, because we'll be getting you aligned with your exact skillset)

you know this isn't about making quick money but rather taking time to get it right so you can earn and feel good long-term

you recognize the worth of investing in yourself and believe leaders/healers and creatives should be paid well for their abilities
here are a few things you can look forward to:
deep awareness of who you are and your unique skillset

an offering hand-crafted to you and your needs

relief from the 'just surviving' mindset that plagues healers and creatives

plus the other beliefs hiding out in your subconscious that keep you in fear that doing what you want is unrealistic

a new process for pricing your products and services and getting them in front of those you are here to support

knowledge of sales psychology and how to cater it to your demographic without being overwhelming

tools for identifying and pushing past procrastination and resistance

freedom from doing 'all the things' when most are just busy-work and not necessary to grow your influence and profit

business boundaries

more money

a shift in how you understand your role as a people pleaser
newfound self-respect for your worth on this planet

the communication skills for sharing what you do with those who don't get it

awareness for how to keep yourself balanced between tedious to-dos and creative expression

an understanding of why people buy and what needs to change for you to actually profit

access to a network of others doing similar work

templates for sales pages, opt-ins, pitches and social media bios

knowledge of what makes empaths INCREDIBLE at business so you can stop selling yourself short and show up and make an impact

Lessons start March 31st.
JOINING?

*By enrolling in this course, you agree you have read and understood the diary's Terms + Conditions. Course will run 6-weeks starting March 31st and ending May 11th. I'm sending personal welcome emails to all who enrol to meet you and tune into your needs as an emerging empath in business - so watch for that email within 72-hours of payment. Payment plans automatically withdrawn monthly based on timing of first installment. Price shown is shown with applicable taxes already included.